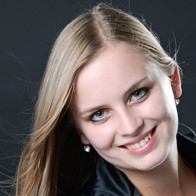 Hi, my name is Maťa. I live and study in Košice.
It all started when I was in 3th grade at Spanish bilingual grammar school. I managed to go for one year to Zaragoza. When I returned I was trying to find the way to go abroad again as soon as possible.Finally, I decided to stay and study in Košice. Before the entrance exams I had checked all the Erasmus opportunities at my university.
As soon as it was possible, that is during the winter semester of the 3th grade, I left for Rome. Of course my friends didn't understand what it was good for. They kept saying: "You've already been abroad, you've got a lot of experience, it's just a useless trip". No! A lot of people think that studying is not the most effective way to spend your time. So why not to make the most of the opportunities that are given to us on a silver platter. All it takes is to be a little bit more active. Besides our compulsory "formal" education, we can also try non-formal education due to new people, real situations and new countries.
I believe that non-formal education we provide is more valuable than formal education. It's also one of the reasons why I've joined this organization - to inform young people about opportunities and to encourage them to be more active.
Hits: 914