EcoBubble
(Training course)
/1.06 - 7.06. 2022 /Sada, A Coruña, Spain
Project organization: Xeración
ECObubble (promoting ECOlogical solutions for young entrepreneurs) is an Erasmus+ training course for whoever have a spirit of entrepreneurship and is interested in the protection of the environment. This training course offers entrepreneurs and activists from 10 European countries the unique opportunity to find and develop solutions for the different environmental challenges sustainable both in the ecological and economical sides. During 5 full working days you will also be able to connect with nature, appreciating its importance and learning how to respect it in your daily routine.
The programme forecasts debates and specific workshops that will allow you to train key competences for the development of an environmental initiative/business as well as examples of successful good practises that surely will inspire you. Thus you'll meet other green entrepreneurs with who you can network exchanging tips, ideas and, eventually, develop shared projects.
Finally you'll have the chance to confront some of your ideas with the general public in an open event. On it, local community will provide you with valuable feedback on how to adjust your initiative to make the best impact possible.
What you're going to learn:
– Everything about "sustainable living" (circular economy, zero waste philosophy, greenwashing…)
– Sustainable living in practice
– How to create a sustainable and viable enterprise/initiative starting from scratch
– To develop an action/business plan.
– Present your idea/s project and convince an audience of its quality
– Give and receive constructive feedback
– Marketing strategies
– Team work
– To squeeze your creativity
– To partner up with people from other countries
Working language: English.
Number of participants: 22
 Who is the ideal participant in the project?
– Entrepreneurs, youth leaders, workers in NGOs or volunteers (between 18 and 30 years old)
– Able to understand and communicate in English (minimum B2)
– Coming from one of the countries of the partner organizations (see below)
– Available for the whole duration of the project and willing to travel to Spain
– Interested in acting for the protection of the environment and/or help other people do so
– Interested in developing green business ideas and/or helping other people develop their green business ideas.
– Ready to actively participate to the different sessions of the project (learning process seen as an horizontal dynamic, not a top down one)
Group requirements:
Slovakia will be represented in the project by a group of 2 participants.
In particular, the group's role will be to actively participate in the project program in an effort to meet its defined objectives. The secondary task will be to present Slovakia and its culture.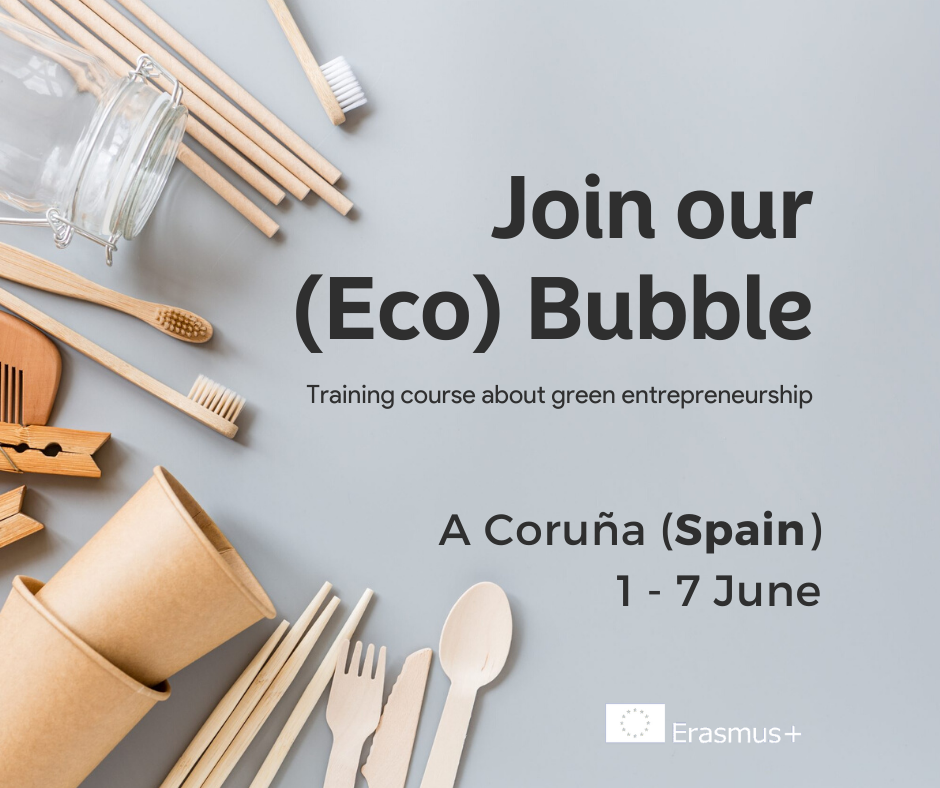 Important info:
Accommodation, meals, and the program throughout the project are fully reimbursed according to the rules of the Erasmus + program through the project organizer.
Travel costs will be available once the venue is set.
Each participant is individually responsible for the planning and implementation of the trip. Extremely important: The participant is obliged to keep the travel document to and from the destination and hand it over / send it to the project organizer according to his instructions.
Insurance: Travel insurance is NOT paid by the participants or subsequently reimbursed. Each participant is obliged to take out health insurance, which is valid in Spain.
How to apply for the project?
Send us your CV (in English) + motivation about why YOU should go to this project at project@youthfullyyours.sk
INFOPACK can be found HERE!!!
Deadline to apply: ASAP
The project is financially supported by the Erasmus + program.

Hits: 528