You(th) decide - finálna konferencia - názor účastníčky Patrycji / PL
Dn. 12.09.2019r. o godzinie 15 przyjechaliśmy do Bistuszowej na spotkanie młodzieży z Polski, Węgier, Słowacji i Czech, którego tematem był udział młodych ludzi w życiu lokalnym swoich społeczności.   
Nasze spotkanie rozpoczęliśmy wspólnym lunchem, po którym udaliśmy się do sali konferencyjnej. Zajęcia rozpoczęły się od zapoznania z innymi uczestnikami projektu. Pomogła nam w tym zabawa polegająca na przedstawieniu trzech zdań o sobie, z których dwa z nich były prawdziwe, a jedno fałszywe. Zadaniem innych było rozpoznanie fałszywego stwierdzenia. Następnie wspólnie zastanawialiśmy się nad definicją "youth participation".  
Odwiedził nas burmistrz gminy Ryglice – Paweł Augustyn, który uraczył nas bardzo interesującą przemową dotyczącą angażowania się w życie lokalne. Po przemowie przybył kolejny gość – burmistrz Ustrzyk Dolnych – Bartosz Romowicz, który pozostał w naszej gminie do dnia konferencji w Pałacu pod Dębami w Zalasowej. 
Następną częścią projektu było stworzenie i przestawienie lokalnego herbu, który składał się z 5 elementów, które przedstawiały nasze oczekiwania, osiągnięcia, wyzwania i elementy charakterystyczne naszej społeczności. Po tych zajęciach udaliśmy się na małą przerwę, w trakcie której mogliśmy skosztować słodkości oraz uraczyć się kawą lub herbatą. Po przerwie rozpoczęliśmy przygotowania do konferencji. Każdy z nas został zapoznany z zadaniami, które należało przygotować. Było to m.in. przygotowanie prezentacji, wywiadów z lokalną społecznością, udokumentowanie spotkania poprzez robienie zdjęć, a także wyznaczenie ról, które każdy z nas miał spełniać. 
Spotkanie zakończyliśmy grillem, wspólną rozmową i zabawami. Pierwszy dzień projektu był dla nas bardzo intensywnym i dynamicznym dniem, z powodu wielu zadań i zajęć, lecz można go także opisać jako zadowalający i satysfakcjonujący, ponieważ każdy z nas zyskał nową wiedzę, znajomości, i ciekawy czas spędzony razem. Ok. godziny 22:30 zakończyliśmy wspólne zajęcia. 
Dnia 13.09.2019r. o godzinie 10 rozpoczęliśmy najważniejszą część projektu – konferencję w Pałacu pod Dębami w Zalasowej, której tematem było "You(TH) decide!". Przybyli tam przedstawiciele lokalnych społeczności m.in. burmistrz gminy Ryglice – Paweł Augustyn, sekretarz gminy – Seweryn Gutkowski, burmistrz gminy Ustrzyki Dolne – Bartosz Romowicz, wice burmistrz gminy Tuchów – Wiktor Chrzanowski oraz dyrektorzy szkół w gminie Ryglice. W konferencji uczestniczyli również uczniowie szkół podstawowych. Liczba osób wynosiła około 100. 
Spotkanie rozpoczęliśmy przemową Seweryna Gutkowskiego, który przedstawił temat konferencji, a następnie słuchaliśmy kilku słów skierowanych do nas przez przedstawiciela naszej lokalności. Została przedstawiona prezentacja Ustrzyk Dolnych. Kolejnym krokiem spotkania były przemówienia uczestników projektu w grupach narodowych. Każdy reprezentant kraju mówił o wybranym temacie przygotowanym na poprzedzających zajęciach w Bistuszowej. Kolejno – reprezentanci Czech, Węgier, Słowacji i Polski. Zostały poruszone tematy wymiany międzynarodowej, zachęcano młodych ludzi do uczestniczenia w życiu lokalnym, przedstawiono swoje doświadczenie w projektach. Następnym etapem była przerwa, w trakcie której zostały przeprowadzone wywiady. Każdy mógł skosztować słodkości, napić się kawy lub herbaty. Po przerwie czworo przedstawicieli z każdego kraju podzieliło się swoimi refleksjami na temat życia młodzieży i ich lokalnej działalności. 
Po zakończonej konferencji każdy mógł skosztować polskich przysmaków – pierogów z grzybami czy naleśników z dżemem lub serem. 
Gdy zakończyliśmy wydarzenie w Zalasowej, uczestnicy projektu spotkali się ponownie w Bistuszowej. Tam podzieliliśmy się naszymi refleksjami i odczuciami na temat tego spotkania. W doborowych i nostalgicznych nastrojach opuściliśmy miejsce naszych spotkań. To był bardzo krótki czas, kiedy mogliśmy być razem , ale z pewnością dla każdego z nas nie był zmarnowany.  Z projektu wynieśliśmy sporo informacji, a także dobry nastrój, energię i doświadczenie.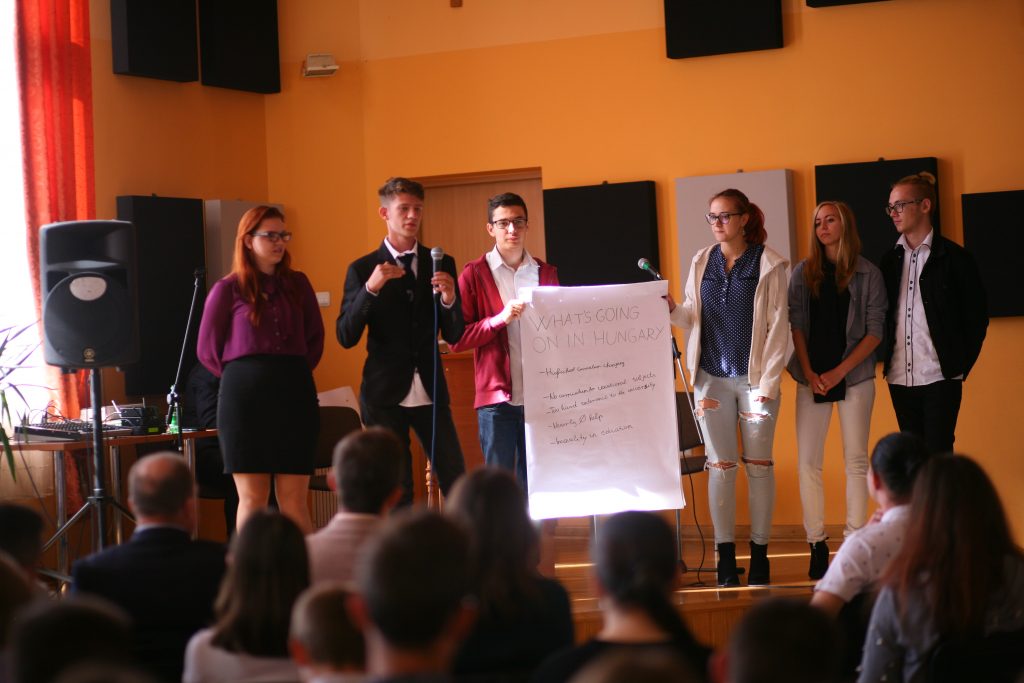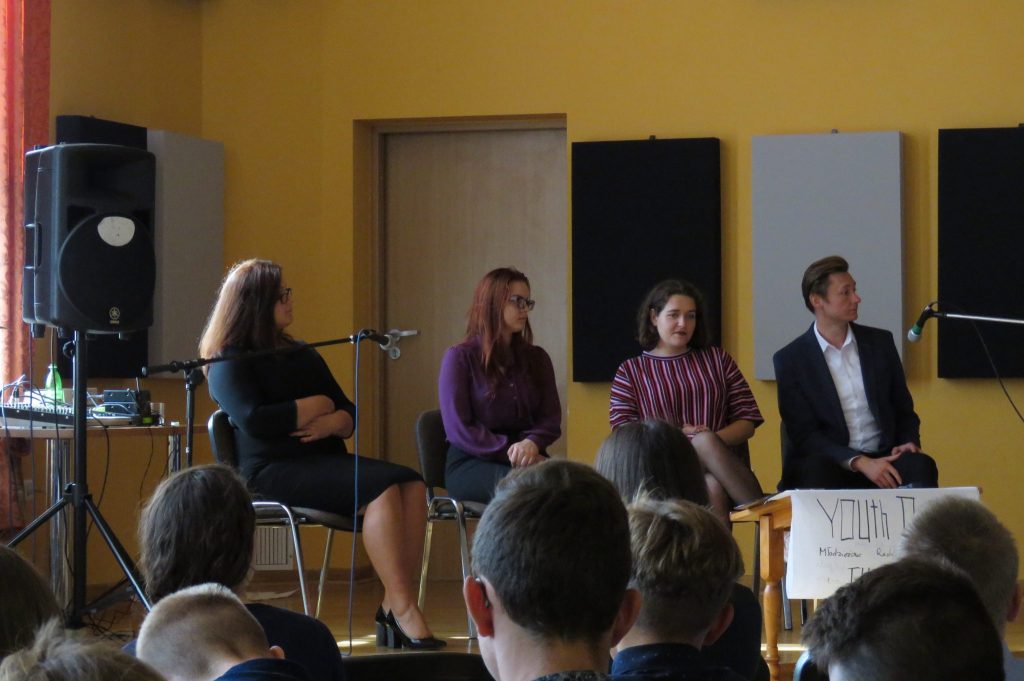 The educational program You(th) Decide is financially supported by the Visegrad Fund, under the patronage of the Košice municipal district, the mayor of Ryglice disctict (Poland)


The activities are developed simultaneously in 4 countries of V4 in partnership with..
Ryglice Community - The Municipal Youth Council of Ryglice
 
Association of Agrarian and Rural Youth Circles of Jász-Nagykun Szolnok County
European Youth Centre Břeclav z. s.

Youthfully Yours SK

Hits: 427