Aký hashtag má moja Európa?
Vedeli ste, že v posledných eurovoľbách skončilo Slovensko s 13-percentnou volebnou účasťou na poslednej priečke zo všetkých štátov EÚ? O dianí v európskych inštitúciách sa u nás veľa nedozvedáme, no o to dôležitejšie je zaujímať sa o veci verejné. Inak to môže dopadnúť aj tak, že pár tisíc ľudí rozhodne o tom, kto bude našu krajinu zastupovať v regionálnych, národných či európskych inštitúciách. Práve projekt ako tento nám doslova otvoril oči a vzbudil v nás záujem o spoločnosť, v ktorej žijeme. Diskutovanie o aktívnom prístupe mladých ľudí k politike a porovnávanie spoločenskej situácie s krajinami nám podobnými, ale aj takými, kde sú mladí ľudia vedení k politickému angažovaniu sa už od mladého veku oveľa viac ako u nás bolo obrovským prínosom. Príkladom by nám mohla byť aj mladá, avšak veľmi rozvinutá krajina - Estónsko, ktorá rovnako ako my začínala po páde socializmu takpovediac "odznova". No predbehla nás míľovými krokmi, čo sa týka vzdelávacieho systému aj mládežníckeho aktivizmu.
-Jeannette-
Takto s nami zdieľala tieto alarmujúce informácie a upozornila na dôležitosť účasti vo voľbách naša účastníčka Jeannette.
TAKŽE
Voliť, či nevoliť? To je otázka, ktorú si mnohí z nás pokladajú pred blížiacimi sa voľbami. Bohužiaľ, keď sa jedná o eurovoľby, väčšinou na túto otázku ani nepríde rad. Akoby pre nás absolútne neexistovali. Brusel? Nie je to snáď nejaké výskumné centrum na Antarktíde? Malo by nás vôbec trápiť čo sa tam deje?
URČITE!
O tom, ako to v európskom parlamente prebieha a čo je jeho funkciou sa informovali naši účastníci na mládežníckej výmene My!Europe pod vedením talianskej organizácie TDM2000 v sardínskom meste Cagliari. Tu je zopár ich postrehov a zážitkov.
Účastníčka Alexandra sa s nami podelila o to, čo bolo hlavnou aktivitou tohto projektu a aké nové zručnosti si odniesla domov.
Počas výmeny My!Europe – Young MEPs for democracy sme mali možnosť vyskúšať si ako prebieha rozhodovací proces v európskom parlamente prostredníctvom simulácie. Počas simulácie bol každý účastník členom jednej z hlavných politických strán európskeho parlamentu. Úlohou strán bolo zhodnúť sa v rámci strany na názoroch ohľadne piatich vybraných tém (Ľudské práva, Migrácia, Internet, Budúcnosť Európy a Ekonomika) a napísať formálne vyjadrenie k danej problematike, návrhy na zmeny a stručné vyhlásenie, ktoré bolo neskôr prezentované pred parlamentom. V tejto fáze začala azda najpodstatnejšia časť projektu, a to rozumný dialóg s ostatnými členmi súperiacich strán, dohadovanie sa o spojenectvách strán a zhodnutie sa s predstaviteľmi inej strany na rámcových vyhláseniach.
Mňa osobne projekt obohatil o nové priateľstvá, zážitky, nové pohľady na vec a zlepšenie "soft skills". Na mládežníckych projektoch sú ľudia otvorení, takže vo voľných chvíľach alebo po ceste na večeru sa rozhovory dajú prirovnať k živému atlasu, a tak som sa opäť  dozvedela super veci a rozšírila si obzory. Úprimne ma prekvapilo, aký obrovský rozdiel je v informovanosti a prístupe mladých ľudí k politickému dianiu a fungovaniu EÚ v jej rôznych členských štátoch. Čo sa týka rozvinutia "mäkkých zručností", boli to najmä tímová práca a neustála komunikácia na rôzne témy.
-Saša-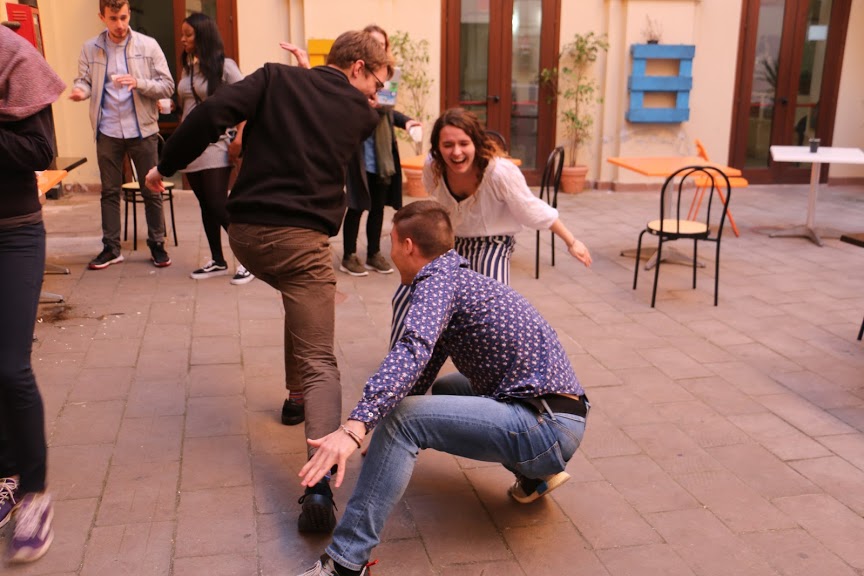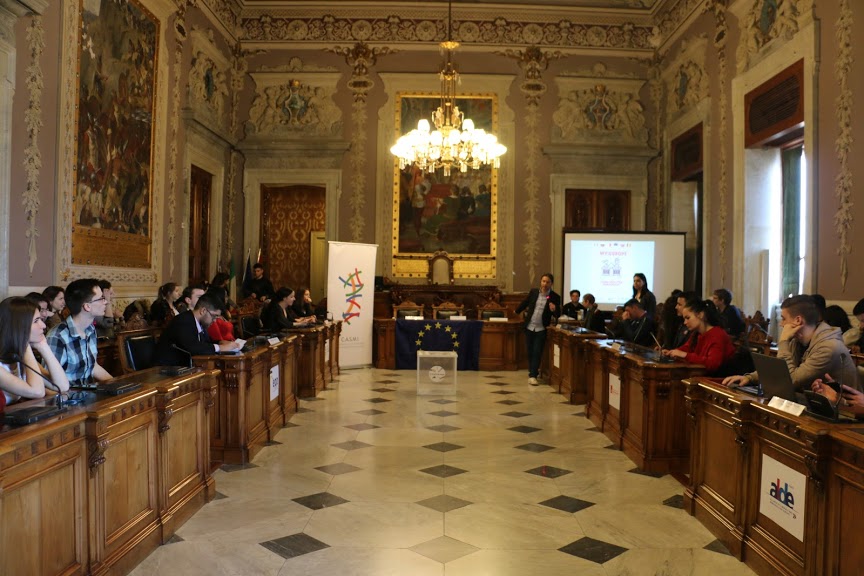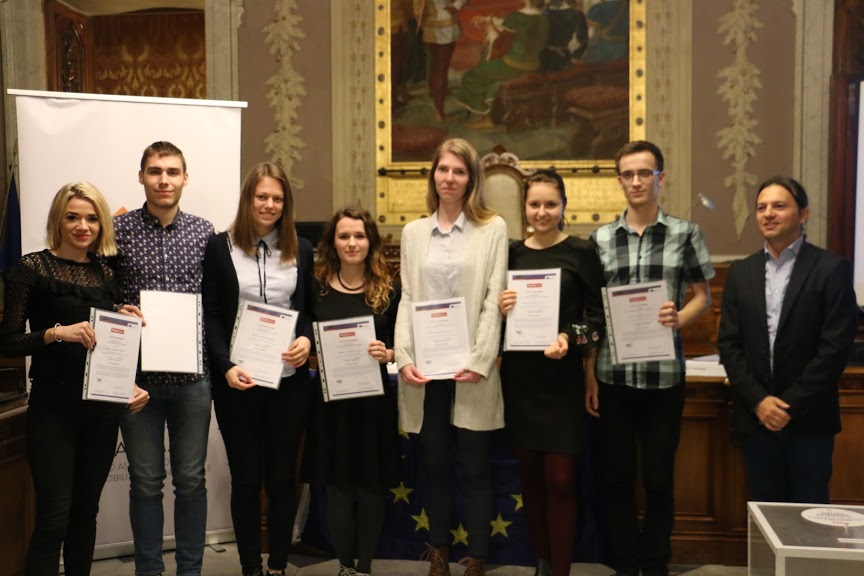 Oliver zas píše o tom, ako aj ranné vstávanie po dlhej noci dokáže byť v celku príjemné v kruhu priateľov:
Na Erasmus + projektoch sa mi veľmi páči, že prepája neformálne vzdelávanie so zábavou. Len ťažko si dokážem predstaviť situáciu, v ktorej by som sa naučil za týždeň kopec zaujímavostí ohľadom fungovania EÚ parlamentu a zároveň spoznal skvelých ľudí z celej Európy. Niet pochýb, že Erasmus + je fantastickým prostriedkom na rozšírenie obzorov vo sfére spoznávania cudzích kultúr. Človek prichádza na projekt s istými predsudkami, tie sa však zakrátko rozplynú po tom čo zistí, že "kolega" možno rozpráva iným jazykom a býva v inom kúte Európy, ale vecí, ktoré máte spoločné je ďaleko viac než odlišností. Bariéry sú veľmi rýchlo zbúrané a vy nadobudnete pocit priateľstva s človekom, ktorého poznáte iba chvíľočku. Obaja si však uvedomujete, že táto skúsenosť je veľmi vzácna a preto nie je čas na zbytočné rozhovory o počasí, ale  rovno preskočíte k otázkam, ktoré vás úprimne zaujímajú. Táto konverzácia bez filtrov vás natoľko pohltí, že sa pristihnete pri tom, ako vám do raňajok zostáva už iba pár hodín spánku. No prekvapivo vám to vôbec nevadí. Prebúdzate sa síce s malým pocitom únavy, ale ten pominie vo chvíli ranného rituálu v podobe spevu so svojimi spolubývajúcimi, oprava, teraz už priateľmi 🙂
-Oliver-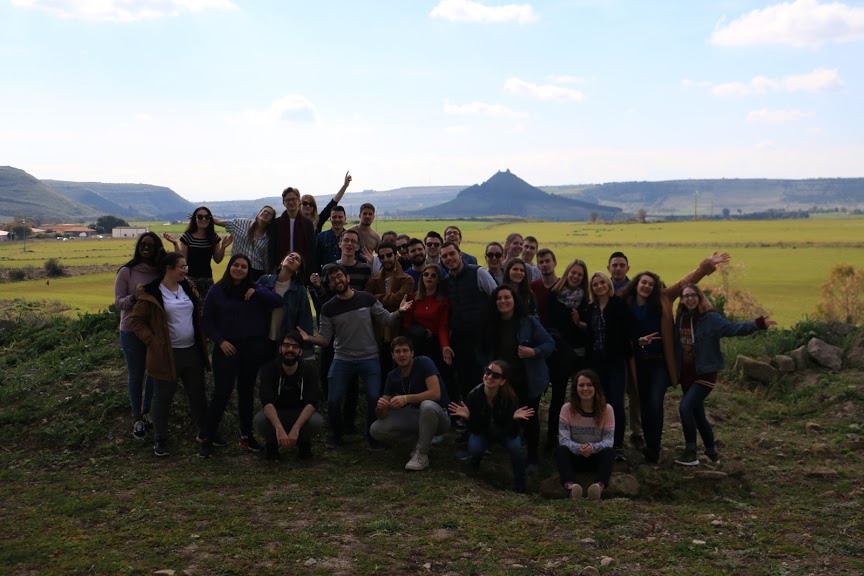 Na záver tohto článku by sme chceli motivovať mladých (áno aj teba!), aby dali šancu programu Erasmus+, pretože je to skvelá príležitosť ako sa vzdelávať, vycestovať do cudzej krajiny a spoznať nových ľudí z celej Európy.
A samozrejme, #thistimeimvoting !
-Jeannette, Saša, Oliver, Noemi-